~Low height, micro size, high-heat resistance thermistor, wire bonding dedicated line up ~
Available chip size: Wire diameter φ50~450µm
Wire bonding is available for power semiconductor, IGBT, Laser diode, LED COB.
The other types matching for soldering or conductive paste are also available.
Back side with Au type for AuSn die bonding is also available.
Mounting method
・Wire bonding
Ultrasonic waves (wedge bonding, ball bonding)
・Die bonding
Resin or AuSn attachment
・Wire types
Aluminum wire, Au wire (Diameter: Please refer to the chart as below.)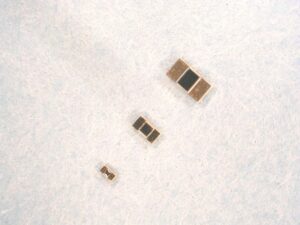 Structure/Size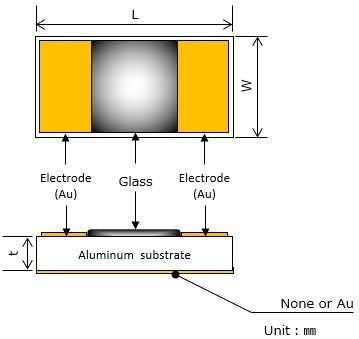 Chip Size
L
W
t
Electrode size
Available wire diameter
3216 size
3.2±0.05
1.6±0.05
0.15±0.03
(1.00)×(1.50)
~450μm
2125 size
2.0±0.05
1.25±0.05
0.15±0.03
(0.60)×(1.20)
~300μm
1608 size
1.6±0.05
0.8±0.05
0.15±0.03
(0.50)×(0.70)
~200μm
1005 size
1.00±0.05
0.50±0.05
0.15±0.03
0.10±0.03
(0.25)×(0.44)
~125μm
0603 size
0.60±0.05
0.30±0.05
(0.20)×(0.25)
~50μm
Thermistor line up
・3216 size
Part Name
R25
R25 tolerance
R25/85
R25/85 tolerance
364FT3216A5P3
360kΩ
±5%
3370K
±1%
104FT3216A5P3
100kΩ
±1%,±5%
503FT3216A5P3
50.0kΩ
±1%,±5%
103FT3216A5P3
10.0kΩ
±1%,±5%
364FT3216B5P3
360kΩ
±5%
3435K
±1%
104FT3216B5P3
100kΩ
±1%,±5%
503FT3216B5P3
50.0kΩ
±1%,±5%
103FT3216B5P3
10.0kΩ
±1%,±5%
・2125 size
Part Name
R25
R25 tolerance
R25/85
R25/85 tolerance
364FT2125A5P3
360kΩ
±5%
3370K
±1%
104FT2125A5P3
100kΩ
±1%,±5%
503FT2125A5P3
50.0kΩ
±1%,±5%
103FT2125A5P3
10.0kΩ
±1%,±5%
364FT2125B5P3
360kΩ
±5%
3435K
±1%
104FT2125B5P3
100kΩ
±1%,±5%
503FT2125B5P3
50.0kΩ
±1%,±5%
103FT2125B5P3
10.0kΩ
±1%,±5%
・1608 size
Part Name
R25
R25 tolerance
R25/85
R25/85 tolerance
364FT1608A5P3
360kΩ
±5%
3370K
±1%
104FT1608A5P3
100kΩ
±1%,±5%
503FT1608A5P3
50.0kΩ
±1%,±5%
103FT1608A5P3
10.0kΩ
±1%,±5%
364FT1608B5P3
360kΩ
±5%
3435K
±1%
104FT1608B5P3
100kΩ
±1%,±5%
503FT1608B5P3
50.0kΩ
±1%,±5%
103FT1608B5P3
10.0kΩ
±1%,±5%
・1005 size
Part Name
R25
R25 tolerance
R25/85
R25/85 tolerance
364FT1005A5P3
360kΩ
±5%
3370K
±1%
104FT1005A5P3
100kΩ
±1%,±5%
503FT1005A5P3
50.0kΩ
±1%,±5%
103FT1005A5P3
10.0kΩ
±1%,±5%
364FT1005B5P3
360kΩ
±5%
3435K
±1%
104FT1005B5P3
100kΩ
±1%,±5%
503FT1005B5P3
50.0kΩ
±1%,±5%
103FT1005B5P3
10.0kΩ
±1%,±5%
・0603 size
Part Name
R25
R25 tolerance
R25/85
R25/85 tolerance
364FT0603A5P3
360kΩ
±5%
3370K
±1%
104FT0603A5P3
100kΩ
±1%,±5%
503FT0603A5P3
50.0kΩ
±1%,±5%
364FT0603B5P3
360kΩ
±5%
3435K
±1%
104FT0603B5P3
100kΩ
±1%,±5%
503FT0603B5P3
50.0kΩ
±1%,±5%
Metallization for the back surface is request basis
Temperature Range
-40℃~250℃